Apple Shortcut: Capture/Save Receipt
Published: April 23, 2023
Last Modified: April 28, 2023
NOTE: This article contains referral links to my personal finance app of choice, Monarch Money. Please consider using my link to give the app a try – you'll get a 30-day trial instead of the standard 7-day trial! If you decide to pay to continue, I'll get a small credit towards my own Monarch Money subscription.
I do my best to stay well on top of my finances. That can get interesting at times, given my insatiable curiosity drives me to try every bank in pursuit of a better rate, and every app out there that claims it's the best for managing finances. I have too many apps and too many bank accounts.
Personal Finance apps have made things a lot easier. I was an avid user of Mint for several years. Mint does the job well overall, allowing me to see my many account balances in one place, but every so often I would find some minor issue. More and more minor issues became somewhat tedious to remember and manage.
The trickiness with these apps is that the information becomes more meaningful the longer they're used. On top of that, the data can be difficult to move. These are by design, I'm sure. Regardless of that, the many minor (and a few major) unresolved issues influenced me to seek an alternative. I chose Monarch Money.
Even with personal finance apps, though, I've been missing a method to manage receipts in an intuitive/friction-less way. A recent overcharge (~100%!) was a reminder to investigate some options. I think I've found a solution, and I'm excited to share it with you.
Monarch Money is a new challenger. There is a lot of potential, and I think it already has an edge on Mint (so do they). A couple quick things that I like most about Monarch Money:
There is a function that allows all new transactions to arrive with a Needs Review status. Gone are the days of sifting through Mint transactions to make sure they're all assigned the correct category and such. This function works quite well in Monarch Money, and it's been a game changer thus far.
Monarch Money supports multiple users in a single household. I haven't used this feature yet. I would prefer to see financial information for each user separately, and that doesn't appear to be possible yet. It's all-or-nothing, and I'd rather be able to still see things separately from other users in my household. I'm looking forward to the improvements they make here over time.
There is an active community on Reddit, in a subreddit titled r/MonarchMoney, that is quite active.
The Monarch Money team is pretty receptive to user feedback. They offer an area within the app to share feedback, as well as see and vote on existing product ideas.
Moving on to the point of this post… Monarch Money, like most apps of this nature, allows users to link attachments to a transaction. I've been aware of this option, but the user experience has never supported a seamless way to make use of the functionality. I came up with a solution, and it's been working quite well for me: Capture/Save Receipt, an Apple Shortcut.
My new Apple Shortcut (more information on Apple Shortcuts here) is now available on RoutineHub. The Capture/Save Receipt shortcut is relatively straightforward – the shortcut allows the user to capture and save a receipt for future use, such as linking to a transaction in an application like Monarch Money. It's more useful than its description suggests, so I'll break it down.
Initiating the Shortcut
If you're familiar with Apple Shortcuts, you know that there are a handful of ways to initiate a shortcut. You can open the Shortcuts app and select the icon to initiate it. You can add the Shortcut to the home screen of an Apple device to initiate it without needing to open up the Shortcuts app. There are two methods that are especially useful for the Capture/Save Receipt shortcut: Back Tap and Share Sheet.
Initiating Using Back Tap
Back Tap is an accessibility functionality that I don't expect many people are aware of. Here's Apple's Support article on the topic. Essentially, you can enable Back Tap to initiate something in your iPhone. A double Back Tap on an iPhone can execute an action. A triple Back Tap on an iPhone can execute a different action (or the same action if you wanted that for whatever reason). Apple controls the actions options, but users can configure Back Tap to initiate shortcuts. My double Back Tap currently runs a shortcut, which opens an app that can unlock my apartment door. My triple Back Tap initiates the Capture/Share Receipt shortcut. I use both every day.
Initiating From the Share Sheet
Share Sheet is useful when storing a receipt file that is already on an Apple device. Consider receipts that are received via email or text – commonplace functionality in modern Point of Sale (POS) systems. The device can't photograph these receipts, itself. The Capture/Share Receipt shortcut includes Share Sheet functionality applied by default. The user will only see the shortcut as an option in the Share Sheet when sharing an applicable file type (Images, Files, and PDFs). For more information on how this works, see Apple's Support article.
Using the Capture/Save Receipt Shortcut
The process to store the receipt begins once the shortcut is installed on an Apple device. Once initiated, it can capture the receipt using two different methods: back camera or Share Sheet. It can then store the receipt using two different methods depending on the use case: work or personal.
Capturing the Receipt: Back Camera
If the shortcut is initiated using an option other than Share Sheet, the user captures the receipt with the back camera. The shortcut will open the camera automatically, and will allow the user to preview the picture before proceeding. The picture file is the receipt file going forward.
Capturing the Receipt: Share Sheet
If the shortcut is initiated using the Share Sheet, then the Apple device will detect that a receipt file is already available. This method will not prompt the user to take a photo using the device's Back Camera. Instead, the shortcut input file is the receipt file going forward.
Storing the Receipt: Personal (Photos App)
The shortcut stores personal receipts in the Photos app on the Apple device. The Photos app is especially powerful. A recent iOS/iPadOS/MacOS update allows users to search for text within an image (here's a post from 9to5Mac on the topic). The ability to search for text within Photos makes receipt management incredibly easy.
In addition to that, the shortcut saves the receipt image to the Receipts album within the Photos app. If that album does not exist, then the shortcut will create it.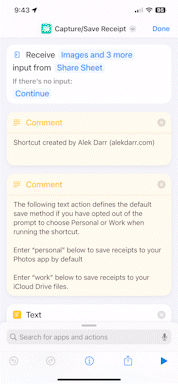 Storing the Receipt: Work (iCloud Drive)
The second option is "Work", which utilizes iCloud Drive on the Apple device. This method stores the receipt in a folder within the user's iCloud Drive. If the folder (iCloud Drive > Work > Receipts) is not available, the shortcut will create it. The work method is most useful for those users that have their Apple ID on multiple devices, such as an iPhone and a Macbook. iCloud Drive updates everywhere in the Apple ecosystem seamlessly, eliminating manual efforts to move these files around.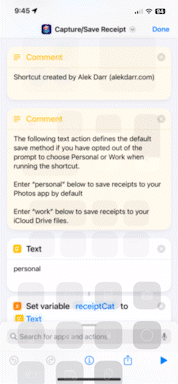 Monarch Money + Capture/Share Receipt Shortcut
Monarch Money and the Capture/Share Receipt shortcut are a perfect match. Monarch Money currently only has my personal accounts connected, which is how I expect it to remain, so the personal method in the Capture/Share Receipt shortcut is most applicable. I also think that Monarch Money should create this functionality themselves, including a shortcut. In the meantime, give mine a look.
Here's how I use it:
After making a purchase, use the Capture/Share Receipt shortcut to store the receipt using the personal method (Photos app)
Once the transaction settles in an account connect to Monarch Money, prompting it to surface in the Needs Review status, use the option to add an attachment to the transaction
In the Photos app, find the receipt:

search for the merchant name or other text on the receipt
refer to the Receipts album to see all of the receipts stored by the shortcut
scroll through the Recents album to find the receipt